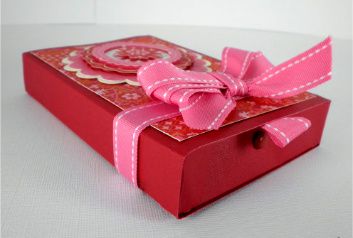 This is Joy from
Obsessed with Scrapbooking
and
Everyday Cricut
and today's gift packaging idea is the matchbox cut from the Tags, Bags, Boxes and More Cartridge. This matchbox is the perfect size for a gift card! It just dresses up and makes that gift card a little more special.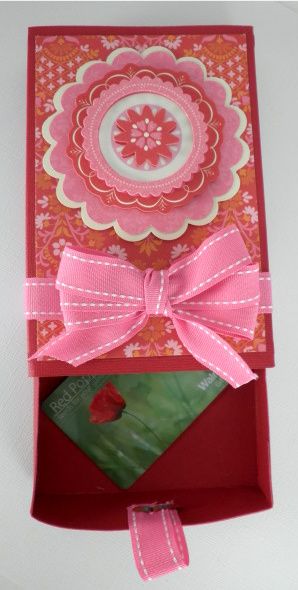 Now, this matchbox was made by cutting the matchbox 1 on page 123 of the handbook at 6". This cut makes the outer wrapper. Next, you cut matchbox 2 on page 124 at 6". This cut makes the inner box. There are also options to have a clear window on the outer wrapper which you could cover with acetate that has been stamped with Staz-on - that would be a cool look. I used Core'dinations paper since it is so wonderful and strong!
The top pieces and paper are all from Anna Griffin's Isabelle Line.
To attach a ribbon pull, I punched a hole through my felt ribbon and the box itself and then threaded a large red brad through it. Brad was by Basic Grey. Ribbon is from Papertrey Ink.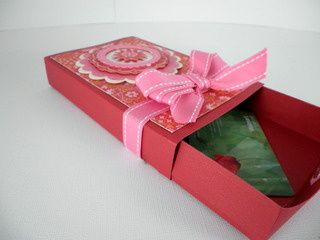 A word about the outer wrapper - it's a snug fit. You can rest assured that this matchbox isn't going to suddenly open up and dump out its contents. Altering the size you cut things at significantly changes the way the box works so I don't recommend that. Using my Gypsy, I laid out both parts of the box so I could cut everything once on a 12x24 mat. That helped save time!
Overall, the box was quite easy to make once I figured out that I needed to cut matchbox one for the outer wrapper and matchbox two for the box itself. I use some Georgia Pacific cardstock I got at Walmart to do test cuts and that really helps to cut down on wasting "good" paper. I highly recommend you get some - it's 150 sheets for less than $6 and is in the office supply aisle.