Hello Everyone! This is Tammy from Creative Critters Cricut Club! (say that three times really fast! lol) I am so excited to be the guest designer for today and want to share my cute little Easter Favor Boxes!
I was assigned the box on page 119 of the TAGS, BAGS, BOXES & MORE cartridge handbook. Careful though... if you look at the handbook online at cricut.com... it will be page 69. I think they may have gotten rid of all the different languages...just my guess.
But, I was excited to get this box as my assignment because I have done many things with it in the past. Now that I have my gypsy... the sky is the limit! Take a look...
My cookie on a stick. The box full of jelly beans is the stand for the cookie (or lollipop).
This box has a window in three sides. I used my Gypsy to add the scalloped egg (from EASTER 2010 cartridge) as a window for my box.
Here is a video tutorial that will take you through the steps on how to make these yourself. I used the Gypsy for the taller box, but you could make a standard 9" box with the cricut expression alone.
Part I Steps 1-3
Part II Steps 4-8
The finished product...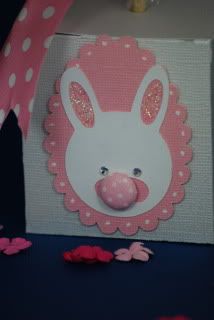 The scalloped eggs and bunny are from the EASTER 2010 cartridge. I am actually Guest Designer at the HALLMARK SCRAPBOOK blog this week and am featuring the EASTER 2010 cartridge all week! They have some awesome prices on cartridges over there! You can get the
TAGS, BAGS, BOXES & MORE
for only $27.99 and the
EASTER 2010
is only $18.99!
Hope you like them!
In honor of being Guest Designer here, I am giving away a TAGS, BAGS, BOXES & MORE cartridge and because I am Guest Designer at Hallmark Scrapbook... I am giving away an EASTER 2010 cartridge this week! All you have to do is leave a comment either here or at
http://www.cricutcritters.com/
or at
HallmarkLadybugs
or at all three places! Drawing will be on Monday, Mar 22nd.
Thanks for stopping by and feel free to come visit me sometime! Thanks Pam & MyaMagoo, for inviting me over! I had a great time!
Craftingly yours,
Tammy